The Grand Launch Of The Luxury Network Morocco
7 October 2022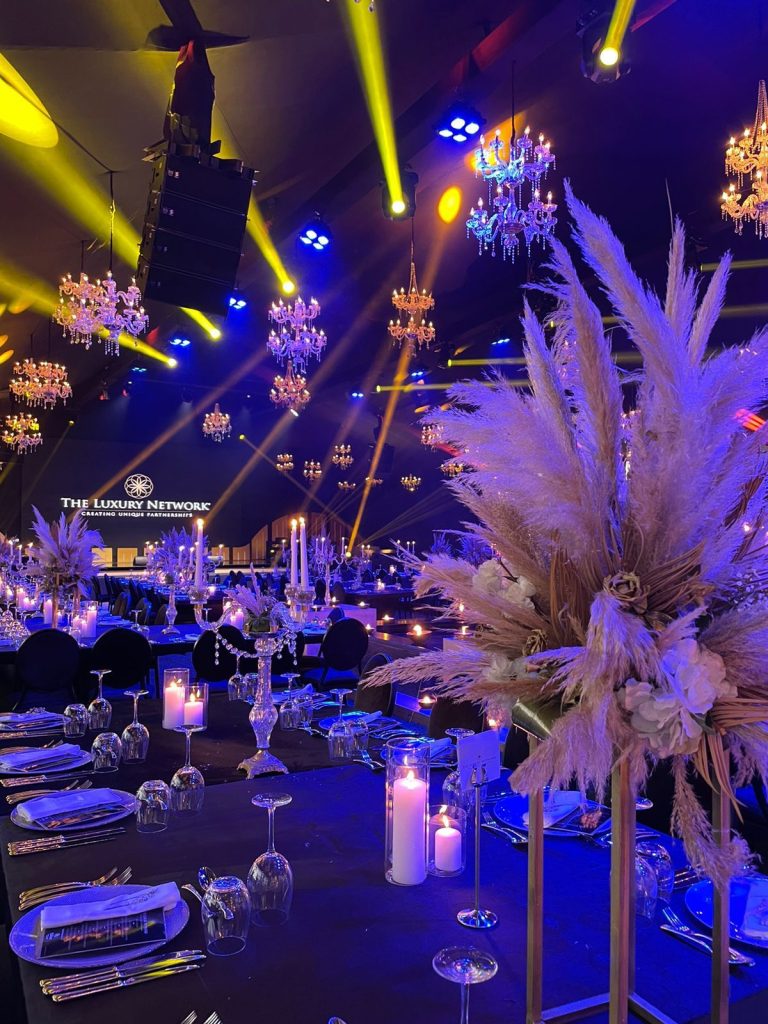 The Luxury Network Morocco Grand Launch
We are delighted to announce the official launch of The Luxury Network Morocco on the 30th of September 2022, attended by dignitaries, business owners, ambassadors, public figures, and privileged members, a selected guestlist from Moroccan and international luxury brands and stakeholders gathered at the Houara Hilton Hotel Spa & Resort in Tangier, to celebrate the grand launch of the Kingdom's Luxury Network branch, with the attendance of Morocco's biggest entertainment names.
Against the idyllic background of the Houara Hilton Hotel Spa & Resort in Tangier, attendees celebrated the launch alongside prominent personalities and ambassadors of a number of countries to Morocco, and witnessed the launch ceremony that recognized some of the biggest names in the Arab luxury field.
Guests were welcomed to the pre-reception red-carpet by bespoke mocktails and canapes, thereafter moving on to a lavish gala dinner to discover Moroccan fine-dining gastronomy that pays homage to the royal cuisine of Morocco.
With extensive media coverage, the event was a resounding success that celebrated both lifestyle and fashion luxury brands, while highlighting the importance of charity and philanthropy among the Arab world's elite.
Presented by Lebanese TV host Neshan, the ceremony recognized Moroccan singer Asmaa Lemnouar and Moroccan Abdelhafid Douzi, while Moroccan boxer, Abu Bakr Zaiter was honored for his "outstanding contribution to charitable activities in Morocco for the year 2022."
NGO "SOS Village" helping underprivileged and orphaned children, was recognized as the charitable organization of the year.
Indian model and actress and miss universe Urvashi Rautela was also celebrated during the luxurious ceremony and was recognized for her notable charity work in India during her first time visiting Morocco.
Saudi media personality Loujain Omran was recognized as the most distinguished TV Personality of the Year, expressing her gratitude for the "great honor" in her acceptance speech.
Our sponsors and partners included; Aston Martin, ATELIER ZUHRA FROM OMAN, DERMANDA GROUP LONDON, BANYAN TREE As
BEST LUXURY WELLBEING RETREAT RESORT OF THE YEAR, MERIEM BELKHAYAT THE
OUTSTANDING MOROCCAN FASHION DESIGNER, KALLISTA
LUXURY JEWELLERY BRAND, SEBASTIEN AZUELOS, MARINA MARSA MAROC THE LEADING NAUTICAL COMPANY and
FERNANDO SLAIBI.
The event's venue, Houara Hilton Hotel Spa & Resort in Tangier, was also named the "Luxury Destination in Morocco".
Fares Ghattas the Global Ceo said, Moroco is an extraordinary country, some of the country's destinations are so unique and filled with that extra oomph that they make the best destinations for luxury holidays. These gorgeous and elegance-filled destinations are mostly replete with premium hotels and resorts and tourist attractions visited only by elite travellers.
Brand alignments, joint collaborations, product placements, media sharing, B2B and B2C networking events are just a few of the methods through which The Luxury Network Morocco plans to increase awareness and explore new business development opportunities for and among its members.
For more information about The Luxury Network Morocco, please email info@theluxurynetwork.ma